Is change a good idea?
With a week working from home during Oregon's snowpocalypse, (it's still white out there!) I had a chance to contemplate the pithy questions I received after last week's email. My latest blog post addresses all of them. And I've pulled the top two here to give you a few quick answers.
Q: My old brand is a beloved, recognizable name with an easy to see logo that's been solid for 32 years ...
If I scrap my old brand then the public won't ever learn my brand name, nor will they trust me because they'll think I'm shifting my purpose, my brand, my foundation …
A: Rebranding does not mean a change in name or URL, although a name change requires a rebrand.
When you undertake rebranding, you're doing so to bring your marketing, your image and identity up to date or to reach and appeal to today's audiences. In most cases, your name will remain, as will your domain name. You won't lose name recognition or your existing web traffic.
Q. Isn't it better to keep such a logo, brand, even acronym as it sinks deep roots into the public psyche?
[Keep it because] it builds detectability and hits throughout the internet, rather than toss it because it suddenly doesn't meter on the chic of the week index?
A. The logo design can be all new, or a brand refresh may be the right choice.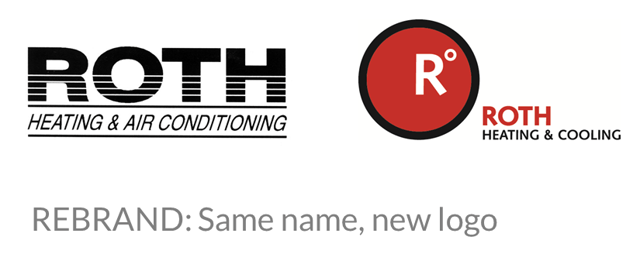 In rebranding, often the logo changes, from small tweaks to a total transformation as shown in the Roth logo.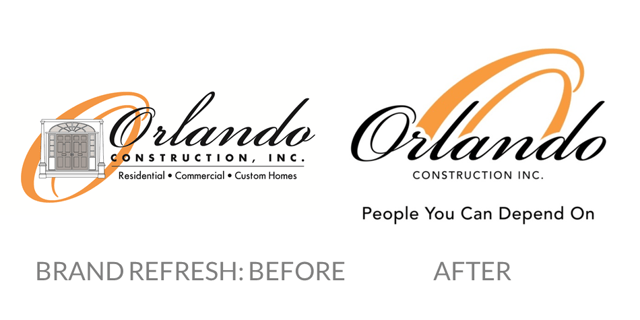 Think of a brand refresh as a new, up-to-date outfit. The same person inside, but a new style that's appealing and looks professional, polished and current.
If there is good recognition for the current identity, a refresh can be the best option. It keeps visual elements from the current identity, yet creates a refreshed look.
We all love the latest and greatest, whatever is marked "new!" on a package. That's what a rebrand can do for your organization.
If your goal is to reach more people and capture their interest and response, a rebrand is one way to bring attention back to you and what you provide.
Is it time to rebrand?
If your company has been around for thirty-plus years, you've already seen huge shifts in how you do business and who you reach. What was acceptable and just fine years ago is now out-of-date and behind the times. Are you still wearing the same outfits you wore in the '80s or '90s? If your brand presentation looks out-of-date, the assumption is your organization is too.
Millennials (under 30) are now nearly 40% of the workforce and will be close to 50% by 2020. If you and the leadership are 50 or older, you're likely facing many issues driven by the Millennial perspective, both internally and with the audiences you must reach.
Are you still relevant? Is it time to embrace change?
Rebranding is holistic, not just design.
Its purpose is to refine and focus who you are, how you express your value and what you mean to your target audiences. Beginning with positioning, you'll understand how to stand out and what key ideas make you the better choice. You'll differentiate your organization from others in your category.
Read my blog post with answers to the rest of these questions. Or download our worksheet on positioning to begin exploring the first phase of a rebrand.